Writing: An Introduction
Gerda Stevenson is a writer of drama, poetry, prose, and children's stories. Her poetry and prose have been published widely in newspapers, literary magazines and anthologies throughout Britain and abroad.
She has written extensively for BBC Radio, including her own original drama, and dramatisations of Scottish classic novels.
In 2008 she was awarded a Scottish Arts Council Writer's Bursary.
Her stage play Federer versus Murray, written and performed for Oran Mor, Glasgow, was shortlisted for the London Fringe Theatre Writing Awards, 2010, and produced by Assembly on the Edinburgh Fringe, 20011, where it was runner up for the EdinburghGuide.com & Scottish Arts Club award for Best Scottish Contribution to Drama on the Fringe.
Federer Vesus Murray will be published by the prestigious American literary magazine, SALMAGUNDI, in Spring 2012.
Gerda's first collection of poetry will be published by Smokestack Books in 2013.
With the Pentlands Writers' Group in 2005, she co-wrote, edited and directed a large-scale community play, Pentlands At War, supported by the National Lottery, the script of which was published in 2006 (Scottish Borders Council Arts Services).
Time and Space
The full moon
pins us in its circle
as we meet
in the kitchen hallway,
each on some small
domestic mission.
I turn off the light,
the better to see us,
husband and wife,
held between walls
by the night's pure beam,
the journey we've made
through decades
to this moment,
a mere blink
of that cold eye.
'A tranquil domestic moment caught by the distinguished pen of Gerda Stevenson, actress, writer and director. The poem is included in Stone Going Home Again, New Writing Scotland 28, edited by Alan Bissett and Carl MacDougall (Association For Scottish Literary Studies, £7.95)' – Lesley Duncan, Poetry Editor, The Herald, 18th August, 2010.
"...first rate work from Gerda Stevenson..." Joy Hendry, Editorial of CHAPMAN literary magazine, 2009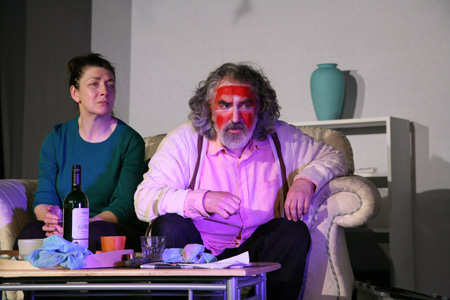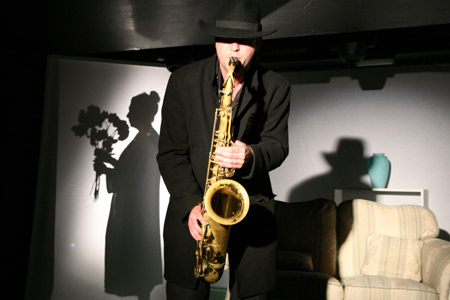 Federer versus Murray, Oran Mor 2010 - photos: Leslie Black
Drama:
2012 - SKELETON WUMMAN - an original monologue for theatre, with musicians and interpreter for the deaf - Traverse Theatre, Edinburgh International Fringe.
2012 - FEDERER VERSUS MURRAY, an original play for stage, 59E59 Theatres, New York, USA, part of the Scottish Government's Scotland Week celebrations.
2011 - FEDERER VERSUS MURRAY, Assembly, Edinburgh International Festival Fringe.
2011 - THE APPLE TREE - an original play, starring Juliet Stevenson, BBC Radio 4.

2011 - SECRETS – a two part original drama on the subject of prostitution for BBC radio Scotland.
2010 – FEDERER VERSUS MURRAY, Oran Mor, Glasgow.

2009 – dramatisation of Lewis Grassic Gibbon's novel SUNSET SONG, BBC Radio 4's Classic Serial, Spring 2009.
2007 - dramatisation of Sir Walter Scott's epic novel THE HEART of MIDLOTHIAN, BBC Radio 4's Classic Serial, Autumn 2007. Nominated for the 2008 SONY AWARDS.

2007 - ISLAND BLUE, an original drama serial, for BBC Radio 4.
2006 - co-writer of PENTLANDS AT WAR, a Lottery funded community play for stage, published by Scottish Borders Art Services, 2007;

2005 - dramatisation of THE GOWK STORM, a novel by Nancy Brysson Morrison, BBC Radio 4.
2004 - dramatisation of Agnes Owen's novel FOR THE LOVE OF WILLIE, BBC Radio 4.
2003 - dramatisation of SELF-CONTROL, a novel by early 19th Century Scottish writer Mary Brunton.
Poetry:
Gerda's poetry has appeared in many literary magazines and anthologies, including Edinburgh Review, The Scotsman, The Herald, New Writing Scotland, Chapman, Cencrastus, The Eildon Tree, Spectrum, Markings, Parnassus Poetry in Review (New York), Cleave (Two Ravens Press), A Rose Loupt Oot (anthology of poetry and song commemorating the Upper Clydeside Shipbuilders' work-in), and Cork Literary Review. She was a finalist in Aesthetica magazine's Creative Works competition, December 2008, runner up in The Eildon Tree Wilderness competition (2005), and published in both subsequent anthologies.
Her first collection, Invisible Particles - New Writing from Scottish Borders, was published by Scottish Borders Council Art Services in 2002.
Prose:
2011 - SKELETON WUMMAN, a short story, published in Southlight literary magazine.
2009 - CHROMOSOMES and CHOCOLATE, a short story, published in Markings literary magazine.
2007 – BELLA DAY, a short story, published in The Eildon Tree magazine, Issue 14.
1987 – THE CANDLEMAKER & OTHER STORIES (pub. Kahn &Averill), children's stories, with her own illustrations.
Gerda has run many writing and story-telling workshops in schools.
Selected press quotes on writing:
SKELETON WUMMAN, TRAVERSE THEATRE, Edinburgh Festival Fringe, 2012.
THE SCOTSMAN, 2012 ****
"…Gerda Stevenson diving straight off the deep end, into uncharted seas. Stevenson's wonderful 25-minute theatre-poem Skeleton Wumman, featuring one actress and two on-stage musicians, is a monologue for a rickle of bones lying on the seabed, long dead, but somehow still able to think…a remarkable story, inspired by native American tales as well as by Scotland's huge tradition of sea stories…its strange, ecstatic ending leaves the audience gasping, with the power of its poetry and storytelling."
FEDERER VERSUS MURRAY:
THE HERALD, 2010 ****
"… hilarious and heartbreaking. The finale is a coup du theatre."
THE BIG ISSUE, 2010 ****
"The play's strength is its ability to straddle the personal and political, public and private. Balancing sorrow and comedic timing assures we linger on nothing for too long...we truly sense the acute intensity of their emotions. The last scene is literally and figuratively one of transcendence."
FRINGE REVIEW, 2011 ****
"A profoundly moving and genuinely funny meditation on grief and loss as Flo and Jimmy, a couple in late middle age find themselves both united and divided in mourning: "Who's Afraid Of Virginia Woolf" transferred to a Scots sitting room…Federer versus Murray is a truly joyous, tearful and thought-provoking piece of work and I urge you to see it while you can."
FEST MAG, 2011 ****
"Federer Versus Murray is a brilliantly powerful, evocative, humane and funny exploration of loss, grief and isolation within the confines of domestic family life. It's a beautiful study of both human fragility and strength, told through the lives two very unextraordinary people and featuring great performances from leads Gerda Stevenson (also the playwright) and Dave Anderson."
NRC HANDELSBLAD, August 2011 (Netherlands)
Edinburgh offers an overwhelming variety of comedy, drama, pop music and theatre events. At the Fringe Festival in Edinburgh the comedians showcase their own disasters to make us feel better, but for a critical approach you need the theatre.
By our editor Ron Rijghard:
"…the critical approach can be found where it has always flourished: on the stage. The play Federer versus Murray is a Virginia Woolf for the Scottish working class. The long-standing couple Flo and James have slept apart since their son Joe was killed in Afghanistan three years ago. They have never spoken of his death. The dam bursts during the tennis match of the title as author Gerda Stevenson skilfully weaves the pros and cons of war into their verbal battle. James feels that his son died for nothing, for the greed of the Western countries that legitimise the heroin influx by making deals with local warlords. Flo still believes in the moral justification of the war and hopes his death is part of something good. 'Hope's a drug, Flo', he tells her. 'An addiction. All it does is make ye sleep-walk.' "
PENTLANDS AT WAR, a community play:

THE SCOTSMAN, 2006:
"Triumphant...beautifully co-ordinated, directed and co-written by Gerda Stevenson...the stories' deep local roots give a fine edge of unpredictable detail. The quality of the staging was at least as impressive as the writing and structuring of the script."
PEEBLESSHIRE NEWS, 2006:
"A living history, both social and military."
RADIO DRAMATISATIONS:
THE HERALD, 2004:
"We've recently had a hugely affecting version of Agnes Owens' FOR THE LOVE OF WILLIE, adapted by Gerda Stevenson." Chris Dolan, The Herald, April 17th, 2004.
SCOTLAND ON SUNDAY, 2003:
"Thank goodness for the 15 minutes per day of sheer enjoyment provided by this week's Woman's Hour Drama (weekdays, Radio 4, 10.45am). It's an adaptation of SELF-CONTROL, by Mary Brunton, 1810, and it deals with the powerlessness of women in the 19th century, via the mechanism of a bodice-ripping romance. Marvellous."