Music : Reviews

Kyrre Slind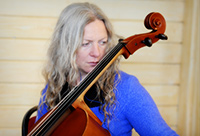 Seylan Baxter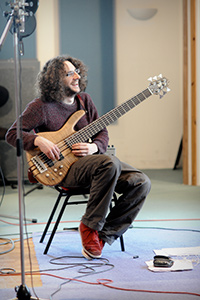 Rob MacNeacail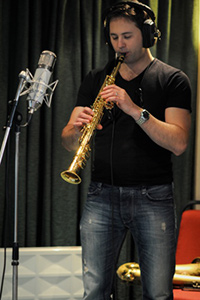 Konrad Wiszniewski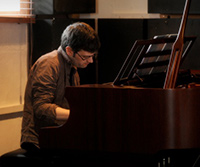 James Ross


Media and industry responses to Gerda's CD of her own songs NIGHT TOUCHES DAY, released November, 2014
"One of the most refreshingly original albums I've come across in a very long time, an album that defies definition, a great variety of styles across all 13 songs – from the Pope handing in his notice to Inca Heights and prayers, bitter-sweet meetings and partings. Wonderful in every way – truly inspirational.." COLUM SANDS, BBC RADIO ULSTER.
"Gerda's theatre background shines through in timing and diction that make her storytelling lyrics all the more potent and entertaining. She also has the ability to switch roles from an Ivor Cutler-like innocence to something resembling the McGarrigle sisters' mischievousness and poignancy, all in the same song. Her composing has depth as well as a breadth that takes in sophisticated acoustic swing, piano ballads, and a more earthy style that carries on the Borders folk ballad and love song tradition." ROB ADAMS, SUNDAY HERALD: 16 November, 2014.
"A life of rich experience beautifully captured in song...she sings with natural poise and utter clarity, occasionally using shruti box or Tibetan singing bowls for background drone and shimmer...strikingly beautiful…the wavering delicacy and whimsy reminiscent of the Incredible String Band...sweet and straight from the heart." JIM GILCHRIST, THE SCOTSMAN, 27th September, 2014

"If there is an album that is quite unlike any other you'll hear all year, while still being instantly accessible, then it's 'Night Touches Day'.
Each song is a complete work in itself. 'Night Touches Day' is one of those albums that just demands that you listen to it as a whole. At times songs take off in directions totally unexpected, at other times, such as on piano-based ballad 'I Come To You', the song flows so effortlessly and naturally, it's beauty is apparent from the first few seconds, and it's one of those songs where you simply have to stop whatever you are doing and let the music take over. Stevenson is the possessor of a unique voice…it really does take your breath away; the purity in Stevenson's vocals is a rare thing.
We need more albums that are as musically diverse as 'Night Touches Day', especially when the whole album is performed as expertly as this. A special mention too for the package housing this CD; beautifully presented, capturing the essence of the music it contains, and printed lyrics too - perfect." Malcolm Carter: Pennyblackmusic.co.uk
"Her debut album consists entirely of self-written material, and it's notable for the quality of her vocal work, and for the storytelling skills…there's an exquisite lament, It's Ower, which has the power of a great Scottish ballad, a finely constructed weepie, Astronaut's Waltz, and – best of all – All the Prayer, a hymn recommended to those who distrust organised religion but love curlews." Robin Denselow, The Guardian, 9th January, 2015.
"Took my breath away. It's extraordinarily good, quite stunning songwriting…singing and arrangements are impeccable…full of lovely wee quirks and surprises and it regularly caught me out by going to places totally unexpected but totally right. Braw, braw wark, aathegither." DICK GAUGHAN
"Such a beautiful album…vocals, performances, arrangements, musicianship and, of course, the songs all coming together to create a body of work that I'm sure will grow in status over the years. I don't think I've heard songwriting quite like this before…every single track, all strong personalities within their individual styles. All The Prayer could become a new Humanist anthem, a really groundbreaking, important song. Papa's Leaving cuts through pomp and hypocrisy with a keen blade, If My Car Was Automatic with its commercial, poppy groove. A special mention also to Astronaut's Waltz, a beautifully constructed example of songwriting, building to the ultimate, pay-off final line… the absolutely stunning It's Ower and Aye The Gean truly deserve to become classics in their field, so rich lyrically and melodically, staying with you long after you've finished listening…inspiring." RORY MACDONALD of RUNRIG.
"I have been saying for years that the multi-talented Gerda Stevenson should get out and sing more. Now she has produced a totally stunning CD, Night Touches Day, festivals and clubs will really be sitting up and taking notice. The songs are her own and prove that not only can she write a beautiful tune, she can write a magically poetic lyric! Lovely arrangements too!" SHEENA WELLINGTON.
"That is one wonderful song." Peggy Seeger, responding to Track 13 Aye the Gean
HUGH TAYLOR of ALIVE RADIO:
"I'm back in the hot seat tonight with lots of goodies. Album of the week is the new one out soon from Gerda Stevenson and a topper it is
"The inordinately talented Gerda Stevenson…has just released a terrific album, 'Night Touches Day' which I highly recommend. I'm listening to it right now, perfect antidote to a gruelling week." Kevin MacNeil, poet/novelist
FOLK
Gerda Stevenson
Night Touches Day
Gean Records GEAN01CD
****
Gerda Stevenson's first album, which was released last month, reveals her ability to compose poetically meaningful lyrics then express them with pure, articulate vocal skill. As one of Scotland's finest actresses, she's already admired for her ability with language, but her singing has been less widely appreciated – until now. Stuck in post-Icelandic volcano Glasgow and having to imagine being in Paris, or musing on the fact that tears can't fall from an astronaut in zero-gravity space are just two of the conceits addressed over 13 tracks, but this reviewer would take the last two songs, both hymns to love, and the enduring Scots tradition.
Norman Chalmers, THE SCOTSMAN, 5th January, 2015.
---
Kyrre Slind - guitars, mandolin, banjo and lute
Konrad Wiszniewski - saxes
Seylan Baxter - cello
James Ross - piano
Rob MacNeacail - bass guitar and harmonium
Inge Thomson – accordion