Writing: Federer vs. Murray
Reviews for Federer versus Murray, 2011:
FRINGE REVIEW ****
"A profoundly moving and genuinely funny meditation on grief and loss as Flo and Jimmy, a couple in late middle age find themselves both united and divided in mourning: "Who's Afraid Of Virginia Woolf" transferred to a Scots sitting room…Federer versus Murray is a truly joyous, tearful and thought-provoking piece of work and I urge you to see it while you can."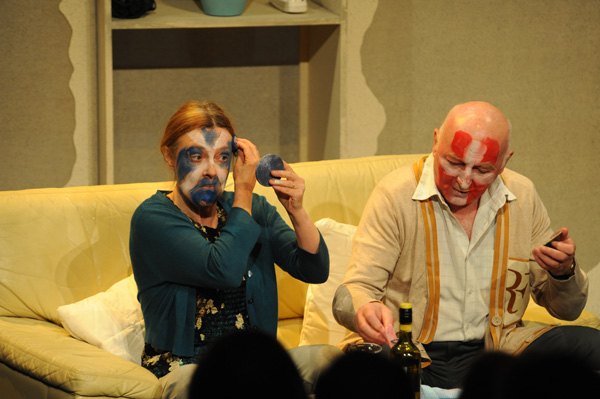 THE LIST ****
"… this is work that addresses the consequences of forms of western financial terrorism which have far more powerful effects on ordinary life than bombs or hijacked aircraft, and this (naturalistic) ordinariness of its characters' pain is what brings all the power and earthy humour to the piece. Both performers work tirelessly and to great effect with the material, which renders intelligible the vast global forces that effect tiny individuals in a manner more telling than any amount of postmodern 'play'."
THE INDEPENDENT
"Gerda Stevenson… has written a taut and punchy one-hour play about marriage, nationalism, and saxophone playing. The couple have lost their son, killed in action in Afghanistan. Their front room is a new war zone….It's a tragic situation, and Dave Anderson and Stevenson play it with stealth and restraint."
FEST MAG ****
"Federer Versus Murray is a brilliantly powerful, evocative, humane and funny exploration of loss, grief and isolation within the confines of domestic family life. It's a beautiful study of both human fragility and strength, told through the lives two very unextraordinary people and featuring great performances from leads Gerda Stevenson (also the playwright) and Dave Anderson."
TV BOMB ****
"…Federer Versus Murray is set in the home of tennis-fanatic Jimmy and his over-worked, over-tired wife Flo … it grasps at honesty and isn't over-emotional. Scenes are punctuated by a saxophonist, whose melancholic melodies give a sense of nostalgia throughout…Stevenson has cracked the balance between the characters' complex need to preserve the past, and their innately Scottish streak that encourages them to get 'oan wae' it. The play invites debate on the causes and futility of war, without preaching. It's engaging, entertaining and thoroughly enjoyable..."
WHAT'S ON STAGE
"Gerda Stevenson plays Flo, a worn down hospital nurse, in her own powerful short play about a marriage under strain…Stevenson cleverly mixes her points about nationalism and domestic misery with a tragic undertow. The couple have lost their only son in the Afghanistan war, and he haunts them still, paying his dad's saxophone…funny, touching, neatly directed by Stevenson."
THE SCOTSMAN
"…Dave Anderson is superb as Jimmy, a man trying to look on redundancy as a new opportunity, while Stevenson (Flo) is a tightly coiled spring of grief and resentment.
Stevenson's play is an admirable attempt to put ordinary Scots' lives on stage in the context of the wider world…"
---
EdinburghGuide.com ****
This is a tightly written and well observed piece whose dialogue shows the dynamics in a long term marriage where the love seems to have got forgotten as each is locked in their own polarized world, full of crossed wires. We see a kindly man and a raging wife hopelessly locked together, not exactly on Mars and Venus, just in a kind of hell where the Scots expression 'bombed oot', used by Jimmy, is especially apt.
Their world views are in opposition too as they argue with raw emotion over the reasons for their son's being in Afghanistan and his terrible death. Jimmy sees 'hope as an opiate' and his methods of trying to move on are at odds with Flo's coping mechanism of nursing her grief. They can't even support the same country at Wimbledon with Jimmy idolizing Roger Federer and Flo patriotically willing Andy Murray to win.
You can feel the desolation of the flickering TV screen with Jimmy lying about in his jammies as he deals with reality of the joyless despair and war zone his marriage has become.
The play is poignantly punctuated by the lovely rounded tones of the saxophone and Chris Hardie appearing in combats, and playing it in a ghostly light as he appeared from behind the audience was extraordinarily moving. With Scottish stage veterans Gerda Stevenson and Dave Anderson being on fine form even after a long Fringe run, it is game, set and match to the team for this accomplishment.
NRC Handelsblad, August 2011 (Netherlands)
Edinburgh offers an overwhelming variety of comedy, drama, pop music and theatre events
At the Fringe Festival in Edinburgh the comedians showcase their own disasters to make us feel better, but for a critical approach you need the theatre
By our editor Ron Rijghard
EDINBURGH. You can't walk three metres without a having a flyer pressed into your hand. Even in the gents toilet at the Assembly Theatre there's a sign saying "No flyers'. The art of seducing the public is an attraction in itself. On the High Street there are as many artists handing out leaflets as passers-by taking them. All for the sake of attracting attention: there is a pillory where you can have your photo taken, there are Romans, knights and human refrigerators, and the a capella groups bravely keep on singing through the latest pelting rain shower. Because it's always raining in Edinburgh.
The performers have to throw themselves at the public, as the competition is immense. The Fringe, the big alternative festival, offers a bewildering array of 2,500 events over four weeks, with more than 40 000 performances for a million visitors in over 250 venues ranging from stuffy cellars and containers to cramped attics and college halls.
The biggest slice is comedy, but there is also pop music and theatre. The regular Edinburgh Festival primarily offers classical music and opera. Then there is a renowned Book Festival and an Art Festival. The festivals do for Edinburgh what the princess does for the frog. The grey city turns soft, alive and warm. And everyone is in a hurry: seeing seven or eight shows per day is not unusual. That's possible because no show is allowed to last longer than an hour.
There are scarcely any real stars at the Fringe: John Malkovich is directing a play and Ruby Wax is talking about her depression – dreary and very autobiographical. Stars are unpopular with colleagues because they take the attention away from all the artists who often invest a lot of money in this chance to make their names – and earn next to nothing. As comedian Dave Gorman wrote in The Independent: "Many comics in Edinburgh take on debts that would scare Greece."
What's disappointing is that all these comedians with their artful improvisations have little or nothing to say about the recent riots. Only Jason Cook had an anecdote about the difference between his concern for his brother living in London and his brother's glee. His brother had filmed the police in his garden and cheerfully shouted 'I've already got three thousand hits on YouTube!'
But the critical approach can be found where it has always flourished: on the stage. The play Federer versus Murray is a Virginia Woolf for the Scottish working class. The long-standing couple Flo and James have slept apart since their son Joe was killed in Afghanistan three years ago. They have never spoken of his death. The dam bursts during the tennis match of the title as author Gerda Stevenson skilfully weaves the pros and cons of war into their verbal battle. James feels that his son died for nothing, for the greed of the Western countries that legitimise the heroin influx by making deals with local warlords. Flo still believes in the moral justification of the war and hopes his death is part of something good. 'Hope's a drug, Flo', he tells her. 'An addiction. All it does is make ye sleep-walk.'