Acting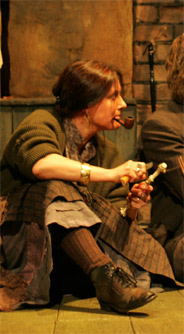 Yellow on the Broom 2004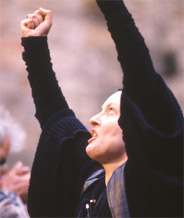 Lady Macbeth
on Inchcolm 1994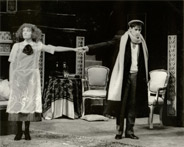 The Royal Lyceum
with Alan Cumming 1982
" 'Tis the season to make wishes, so please, please will the genie of the lamp put Scotland's finest actress, Gerda Stevenson, back on stage? Scottish theatre has need of Stevenson's shining intelligence and intense emotional truth."
Jackie McGlone, The Scotsman Weekend, 2nd January, 1999.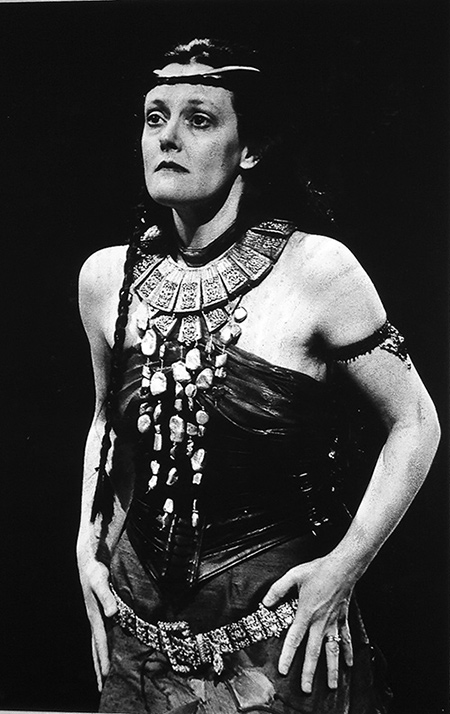 Gerda at Edinburgh's Royal Lyceum, in the title role of Phaedra, Edwin Morgan's Scots translation of Racine's Phaedre.
Theatre performances include:
Phaedra (title role); Dancing at Lughnasa (Maggie); Othello (Desdemona); A Streetcar Named Desire (Stella), and Tartuffe (Marianne) - Royal Lyceum, Edinburgh;
The Yellow on the Broom (Maggie) - Perth Repertory Theatre;
A Wee Bit of How Do You Do - Sounds Of Progress;
Zlata's Diary; The Suicide; A Place with the Pigs, and Jock Tamson's Bairns - Communicado;
Night Sky (Anna) - Stellar Quines Theatre Co.;
Macbeth (Lady Macbeth); Galileo (Virginia) and Jamie the Saxt (Queen Anne) - Scottish Theatre Co.;
Frozen (Nancy) – Rapture Theatre Co.;
Nova Scotia (Lucille); The Meeting; And The Cow Jumped Over The Moon (Andrea); Anna Campbell (title role), and Barry (one-woman play) - Traverse;
King Lear (Regan); The Seagull (Nina); Anna of the Five Towns (Anna) - Victoria Theatre, Stoke-on-Trent;
Macbeth, and The Doctor and the Devils - Contact Theatre, Manchester;
On the Verge (Alexandra) - Freefall Theatre Co. at Lilian Baylis and Birmingham Rep;
Alarms - Monstrous Regiment;
My Pal and Me - 7:84 Theatre Company.
Film performances include:
Braveheart (Murren's mother); Tickets for the Zoo; Gas Attack; Dead Man Falls; The Crimson Snowdrop (Sea Witch); Blue Black Permanent (Greta), for which she won the BAFTA Scotland Best Film Actress Award.
TV performances include:
Heartbeat, Midsomer Murders,and guest appearances on The Bill (ITV); The Boyhood of John Muir (PBS, U.S.A.), Taggart, Doctor Finlay, The Old Master, Supperman(STV); Life Support, Rough Justice, Horizon: Battered Baby, Square Mile of Murder, Grey Granite, Highflight, The Celts, Around Scotland (all BBC).
Gerda has performed extensively on radio, in scores of new plays, classic serials and as a reader of short stories and novels.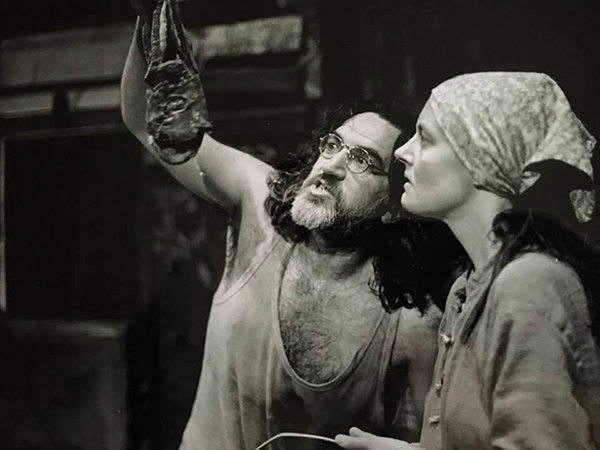 Gerda with Gerry Mulgrew in A Place With the Pigs, by Athol Fugard, Communicado Theatre Company.
gerda stevenson.mp4 from Staging the Scottish Court on Vimeo.