Directing : Reviews
Press responses to Directorial work for theatre
2016
MISCHIEF by Ellie Stewart, directed by Gerda Stevenson, for Oran Mor, Glasgow and Traverse Theatre Edinburgh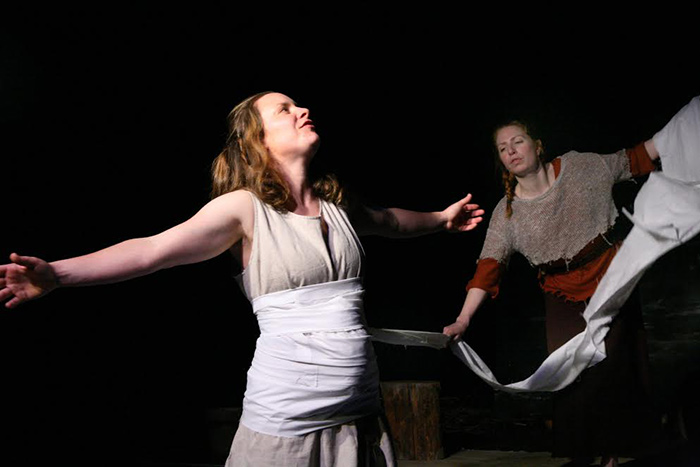 "Director Gerda Stevenson offers something like a master class in how to combine mythical meaning and successful drama, by presenting the three characters in Ellie Stewart's new play Mischief as richly believable human beings – drawn in large, bold brush strokes, but instantly recognisable…with Stevenson's strong hand on the tiller, blending music, movement and two languages in a near-perfect balance, this theatrical ship comes home in fine style – grey hempen clothes, Celtic standing stones, and all." The Scotsman.
"Directed with great verve by Gerda Stevenson, it examines the hypocrisy of religious figureheads and the suppression of sexuality, provoked by the arrival of gullible, mysterious outsider Fari (David Rankine), whom they discover washed-up on the beach." The List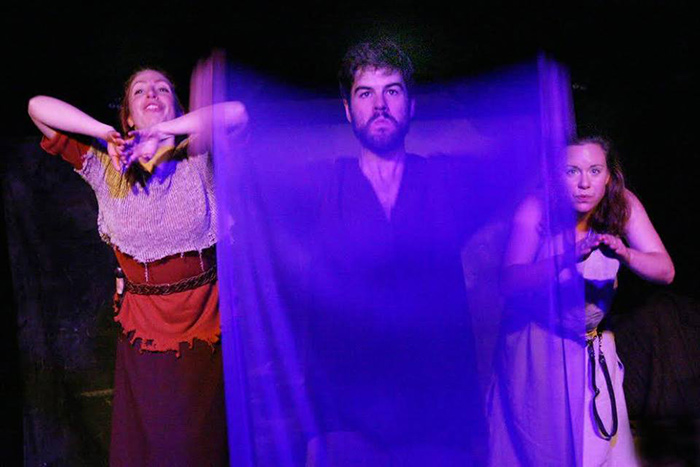 "This metaphor for religious hypocrisy and control - male dominance and female independence- is realised with lyricism and raunchy wit in Ellie Stewart's writing; in the peewit sounds and music from James Wilson, all brought together under Gerda Stevenson's sure and imaginative direction on the primal stone-filled set from Gemma Patchett. The cast of three bring equal strength to this tale of birth, death and survival that is ancient and rustic yet so deeply human that it seeps in to modern bones." EdinburghGuide.com
"Gerda Stevenson directs with elan: the staging is slick, simple and imaginative." TV Bomb.
2014:
SKELETON WUMMAN, written and directed by Gerda Stevenson – an ORAN MOR/TRAVERSE THEATRE/WEST YORKSHIRE PLAYHOUSE co-production: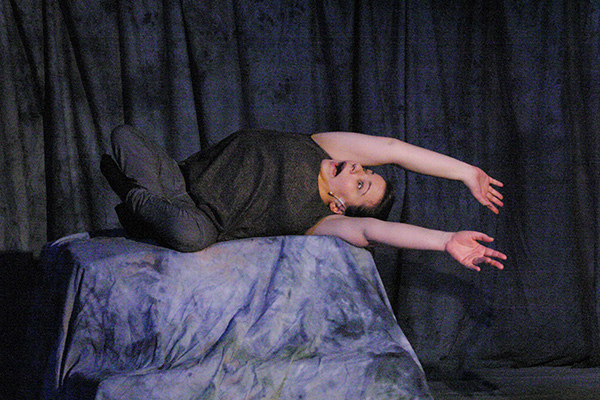 'A stunning elegiac piece of theatre. Weaving lyricism, choreography, sign language and ethereal music…this play is like a little sister to the late Angela Carter, a fragile, sensitive work of sensuality and haunting beauty with a wonderful cast of three. Catch it when it comes to the Traverse in Edinburgh, or later at West Yorkshire Playhouse in Leeds, before it swims away and is gone for good...perhaps'. Across The Arts.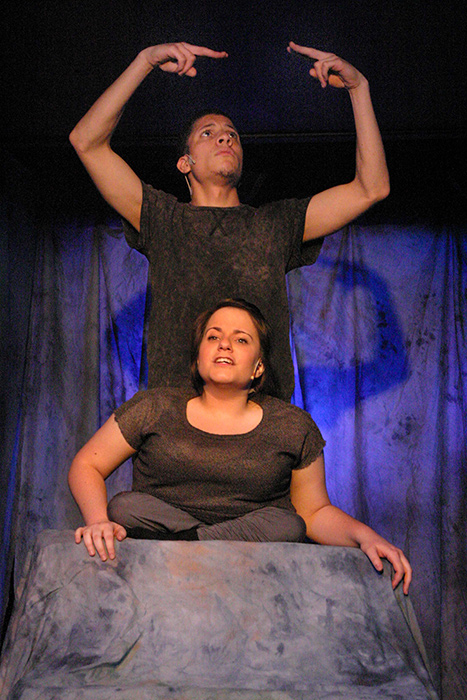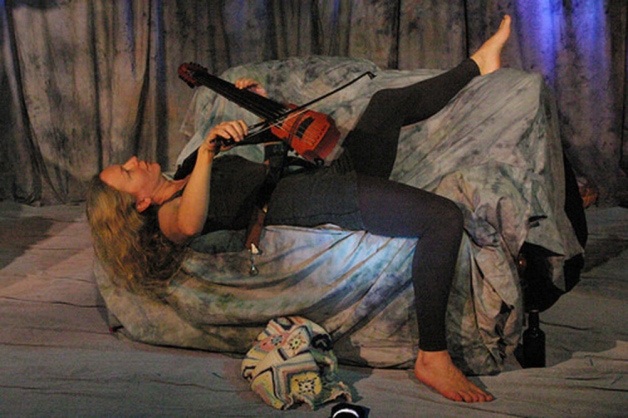 "Gerda Stevenson has pooled her talents as playwright and poet to create a beautiful modern Scottish sea myth. This is a compelling tale of the enduring power of love that lets the listener dip through the vital versatility of the Scots language…a fine comment on environmental issues takes place alongside this poetic tale that is filled with tenderness." Edinburghguide.com
"It's a strange, visionary story…a wild and fascinating piece of stage poetry. Never to be forgotten." The Scotsman.
"POETIC, mystical, haunting ...piquant parallels with everyday realities…it's the element of disability - and how thatcan cloud our attitudes to an individual - that rises to the surface, like the skeleton itself. Conachan makes the supernatural feel wonderfully human. Seylan Baxter's live music swirls shifting moods and atmospheric colours throughout…Buchan Lennon's signing offers another level of expressiveness." The Herald
"Conachan's lilting North-eastern accent is heightened further by Seylan Baxter's haunting live electric cello, which echoes around the production like song. Behind her, Buchan Lennon provides a wild, sign language interpretation, his arms and body moving like a rack of seaweed rising from the sea bed.…another triumph for A Play, A Pie and A Pint – and another poetic gem from Gerda Stevenson with her canny ability to weave disparate ideas, genres and disciplines into a satisfyingly coherent whole." Thom Dibdin http://thomdibdin.co.uk/skeleton-wumman-review/
"Gerda Stevenson has cleverly put some dramatic meat on the bones of Skeleton Wumman, her reworking of an old folk tale. In doing so she has created a peach of a lead role superbly played by Amy Conachan. Amy gets splendid support from Buchan Lennon who also acts as a signer for the deaf. The ethereal music from Seylan Baxter's electric cello is the icing on the cake." Critics' Circle, Oran Mor, 17 April 2014.
2010 - 2012:
Federer Versus Murray, written, directed and performed by Gerda Stevenson, 2010 (Glasgow), 2011 (Edinburgh Fringe), and 2012 (New York):
"The play is about loss, grief, marriage, culture, class, and the struggle back - personally and politically - from lies and estrangement to honesty and intimacy...mounted in a tiny theater...it puts us, the audience, practically in the laps of this warring couple, which is both an uncomfortable and, ultimately, powerfully moving place to be. I've rarely been so moved and stricken with grief...a play that proves you don't nee three acts to create a powerful work of art." www.womanaroundtown.com (New York, 2012)
"Like a good short story, a well crafted one-act play can offer a narrative as fully realized and, as universally resonant as a full length stage work. Gerda Stevenson's "Federer Versus Murray" is a case in point. Author Stevenson also directs and plays Flo. Such a hat trick usually fails, lacking an outside eye, but here, it results in an uncommon unity of vision and a completely realized productio." Robert Windeler, Pick of the Week, http://www.ticketcentral.com/ (New York, 2012).
"It's a winner." THE IRISH EXAMINER, 2011.
FRINGE REVIEW **** (Edinburgh, 2011)
"A profoundly moving and genuinely funny meditation on grief and loss, Federer versus Murray is a truly joyous, tearful and thought-provoking piece of work. I urge you to see it while you can."
"Federer versus Murray is a Virginia Woolf for the Scottish working class...the dam bursts as author Gerda Stevenson skilfully weaves the pros and cons of war into verbal battle." NRC HANDELSBLAD, August 2011 (Netherlands), 2011
THE PUBLIC REVIEWS ***** (Edinburgh, 2011)
"…a strongly understated, multi-layered work. Stevenson and Anderson make the perfect couple, totally convincing in this tragic-comic piece, which is movingly enhanced by the atmospheric saxophone laments. Highly recommended."
THE SCOTSMAN (Edinburgh, 2011)
"…Dave Anderson is superb as Jimmy, a man trying to look on redundancy as a new opportunity, while Stevenson (Flo) is a tightly coiled spring of grief and resentment. Meaty stuff…acute human insight." "… hilarious and heartbreaking." **** The Herald (Glasgow, 2010).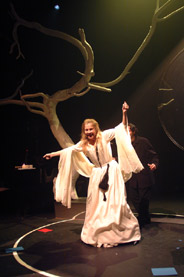 Without A Trace 2002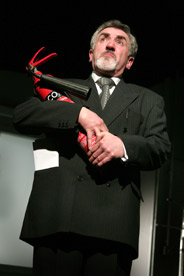 The Memorandum 2006




2006:
BRACE POSITION, by Rona Munro.
"A formidably well-crafted 30 minutes of theatre...Wendy Seager and Simon Tait give thoroughly enjoyable, high energy performances in Gerda Stevenson's well-pitched production...the result is a surprisingly moving show that cuts straight to the heart of the politics of every family." Joyce McMillan, The Scotsman, September, 2006.
"Taut, fast-moving...Maggie and Mark remain in their seats, with their seatbelts securely fastened, for the whole play. However, director Gerda Stevenson ensures that this is a dynamic show, with character development, emotional journeys and return trips taking the place of physical movement." Stephen Gray, Evening News, October 2006.
"Set in a plane's cabin on two aircraft seats it could have been a very static piece, but the excellent cast, Gerda Stevenson's intelligent direction and Rona Munro's well packed text have us flying with this brother and sister and re-examining our own relationships and our fears." EdinburghGuide.com, October, 2006.

THE MEMORANDUM, by Vaclav Havel.
"Director Gerda Stevenson allows her cast to have some serious fun."
The Herald, February, 2006.
"Richer than a gag about bureaucracy and language – the further we get into Havel's world of office politics, buck-passing and sackings, the deeper it resonates with us. Stevenson makes it clear that the victor is neither the level-headed Gross, nor his callous rival Ballas, but the system itself." The Guardian, February, 2006.
"A stylish and assured production...considered, skilful performances. The comedy is well played - good timing and physicality, without overpowering an intelligent text which explores deep issues of power, language and control...wonderful moments of surrealism and great humour. Paul Morrow and Graham Crammond as the scheming deputy and his silent side kick are a masterful comic partnership." EdinburghGuide.com, February, 2006
2005:
THE PENTLANDS AT WAR, by the Pentlands Writers' Group.
"Triumphant...beautifully co-ordinated, directed and co-written by Gerda Stevenson...the stories' deep local roots give a fine edge of unpredictable detail. The quality of the staging was at least as impressive as the writing and structuring of the script."
The Scotsman, January 2006.
THE PRICE OF A FISH SUPPER, by Catherine Lucy Czerkawska.
"Gerda Stevenson's taught production...a powerful insight into post-industrial turmoil. The best in this season (at Oran Mor) to date." The Herald, March, 2005.
"Blisteringly eloquent, full of passion, this is a show that reminds us that for generations of men, the long ritual of letting go of Scotland's macho economic past is still far from complete." The Scotsman, March 2005.
2002
WITHOUT A TRACE, by Carol K. Mack, for Sounds Of Progress.
"It takes something fairly large to dwarf a grand piano. But the massive optician's instrument with a large circular mirror in Richard Aylwin's set establishes beyond doubt the hierarchy of science and art in Carol K Mack's fact-based drama, in its European premiere by the Sounds Of Progress integrated theatre company, under the direction of Gerda Stevenson. From beginning to end, this is a lucid and poetic production, full of humanity and honesty, opening our eyes to the on-going conflict between art and science, and becoming a philosophical debate on the value of sight. Peter Kelly, as the doctor caught between art and science, understanding and respecting both, is as genuine and gently human as Karina Jones' Maria is fragile and vulnerable. The sincerity of their performances makes even more cogent the mutual trust of their characters' relationship. "What stirs us most profoundly is invisible," Mesmer says, a concept the competitive and pursuant doctors cannot grasp. Believe it. See it."
The List, October, 2002.
"One of the real strengths of the drama is that it does not rely simply upon our fascination with the big historical players. Mack's Mozart, for example has a lesser role than Maria's desperate father, and exhibits an even greater capacity for eccentricity than we see in Peter Shaffer's play Amadeus…Director Gerda Stevenson has brought all this together in a beautifully atmospheric production. Richard Aylwin's appropriately simple set, complete with a fabulous movable two-way mirror, is enveloped constantly in Gerry Jenkinson's subtle and responsive light. The performances, too, are never less than strong. Karina Jones's Maria is brilliantly taut yet exuberant, while Peter Kelly's superb playing of Mesmer only adds to our sympathy with the character."
Scotland on Sunday, September 2002.
"Stevenson's staging is the highlight of this production. At first, the setting's singular combination of mirror, tree and musical ensemble seems not just peculiar, but overtly complicated. But since the subject matter is a pianist who gains her sight but loses her talent, this surreal triptych proves very quickly to be a highly original way of creating visual depth and adding layers of meaning." Sunday Herald, September 2002.
"Here was an unusual and entertaining show, fluently directed by Gerda Stevenson. It also contained some wonderful music, including a beautiful performance by pianist Joseph Delaney and cellist Robin Mason, of Maria Theresa Paradies's composition Sicilienne. It was, mesmerising."
Kenneth Speirs, The Mail on Sunday, September 2002.
1999
THE GREEN LADY OF BALCONIE, a multimedia community drama, Fearainn Domhnuill Arts.
"The Green Lady's a winner!...queues of people in the street desperate for tickets.....personality and sense of fun bursting through...brilliant...video sequences which were cleverly used not only to provide atmosphere, but in places became part of the set itself, drawing both actors and audience into the play." Ross-shire Journal.
1998
AN TURUS, an opera by William Sweeney, Paragon Ensemble.
"...an opera brilliantly of its time. With a minimal set - three panels and a series of ramps, well devised lighting and a wonderfully restrained amount of "business" - Gerda Stevenson's direction is extremely sure. Transitions (house to moor to wedding to urban mess) happen, as they should, more by inflection in behaviour than by imposed visual cleverness. The characters are well defined and believable." The Scotsman.
"A genuine opera in scope, form, emotional power and dramatic presentation."
The Herald.
1997
THE CRUCIBLE, by Arthur Miller, R.S.A.M.D.
"Gerda Stevenson's production is directed with a sure and confident hand...many moments of real tension and heartbreaking emotion." The Herald.
1996-97
REFUGE, by Janet Paisley (1996 Peggy Ramsay Award.) Stellar Quines Theatre Co.
"Downright funny…performances of blazing conviction are matched with unfussy, confident direction." The Guardian.

"Director Gerda Stevenson stages the play with raw emotion and down-to-earth humour. One to catch." The Big Issue.
"The most sobering play of the year, produced with no-nonsense honesty by Stellar Quines under the direction of Gerda Stevenson." The Sunday Times.
"Comedy, reality, and a real psychological and moral thriller."
Critic's Choice, Scotland On Sunday.

1995
THE SEAL WIFE, by Sue Glover, Stellar Quines Theatre Co.
"Linguistic beauty and sensitivity…vivid and tantalising…Gerda Stevenson's production is impeccable, played out imaginatively on Karen Tennent's ramshackle set by a vintage, primarily female cast, which brings a rare weight to the proceedings." The List.