Articles : If this were real
Press response to the poetry collection IF THIS WERE REAL by Gerda Stevenson, (pub. Smokestack Books, 2013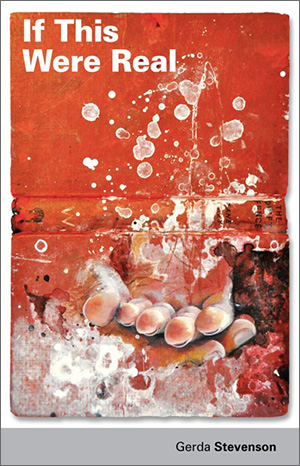 "Gerda Stevenson's If This Were Real (Smokestack Books) promises much and delivers. The best of the new in contemporary Scottish poetry - not to be missed." Ron Butlin, Sunday Herald: The Books Of 2013, 1 December 2013a'.
Excerpt of a review by Kevin MacNeil, of Gerda Stevenson's poetry collection IF THIS WERE REAL, published in the Association of Scottish Literary Studies magazine, THE BOTTLE IMP, November, 2014. For full review
If This Were Real by Gerda Stevenson
If This Were Real is described as an autobiography in verse and it brings to life a journey that is personal and political, intense and wide-ranging. These are poems which offer authentic meanings, connections, ideas. Stevenson writes of gardens and graveyards, epiphanies and Co-op funeral parlours, red cardigans and 'Sarajevo roses' (concrete scars on buildings, caused by mortar shells and subsequently filled in with red resin).
The tones are a shifting, compelling blend of joyous, plaintive, humorous and poignant. Stevenson's lines are clean, clear, musical. The inherent fallibilities and sad frailties of humankind and nature alike are explored with an edgy panache.
The writing throughout is elegantly cadenced, balancing beauty and death, laughter and brutality. There is a melancholy vitality to much of Stevenson's darker poetry. Time, essential for the life and music that frequently light up the poet's mind and work, is also responsible for the loss and death that stalk the collection. 'Last Sunday', a poem for the late actor Simon Mackenzie is particularly moving ('in quiet Gaelic tones / you thank me for coming, ask for news / of my family. It seems like a taunt / to say we're well …').
These cool or impassioned, always clear-eyed, poems comfort and disturb, sadden and enlighten; they at once ground and elevate the reader. Though Gerda Stevenson is very much a poet with her own style, If This Were Real put me in mind of Iain Crichton Smith's A Life, both books being autobiographical collections written by remarkable Scots who have had lives rich in moments of eloquence, insight and empathy.
"Brings a fresh eye and a wise head to familiar Scottish themes." Tribune Magazine, July 2013.
"In 'Co-Op Funeral Parlour', with which I'm still light-headed, the speaker contemplates her own child, as the infant lies in a coffin. The poem's vertiginous emotional charge is achieved by the unflinching control of the language in the face of intimate, inscrutable devastation – as if daring itself to find the image, and let that image do its dark work. The best poems here fuse figurative and emotional life to haunting effect." Wordpress, 2014.
"…depth, humanity, music. Love poems in the widest sense." The Eidlon Tree Magazine, 2013.