Stellar Quines: The Origins
The following years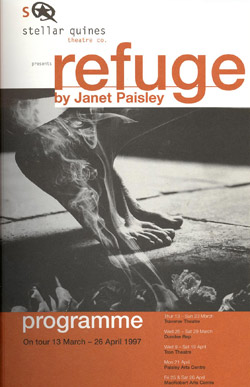 Refuge 1997
A second tour of Refuge was planned, and we continued to seek out Scottish-based writers with a view to further commissions. I came up with Dilys Rose and Donna Franceschild. Irene Macdougall and I worked with Dilys on the script development of Learning The Paso Doble, which Irene directed. At Irene's suggestion, we commissioned Zinnie Harris, a playwright with whom Irene was keen to work. We also commissioned a second play from Janet Paisley – Deep Rising, an historical drama, set during the Jacobite uprisings. Lynn Bains worked with Janet on the development of Deep Rising, with a view to directing the final script.
Unfortunately, in spite of the endless faxes I sent to the playwright's agent, and eventually to the playwright herself, we were unable to secure the rights for Joanna Murray-Smith's Honour. Some years later this play became a hit at the National Theatre's Cottesloe, London (2003) with Eileen Atkins in the title role, and more recently, with Diana Rigg. The British Theatre Guide's reviewer wrote of the British premiere: "The National has unearthed an absolute gem with this Australian play written in 1995. It is a touching tale of what happens when a man who has been married for 32 years decides to defy mortality."
Our fourth production was The Clearing, by Helen Edmundson (founder of Red Stockings Theatre Company, in 1988), a powerful and profoundly moving play, which married the personal with the political, set during the early Irish Troubles under Cromwell. As soon as I read this play, I felt that it would have particular resonances for Scottish audiences, with our own shameful history of the highland clearances. Muriel Romanes directed this production.
During the first half-dozen years of its existence, Stellar Quines had no core funding. We were supported by the SAC from their Project Grant fund. The day-to-day running of the company, artistically and administratively, had to be carried out voluntarily. We were paid only when employed as part of the production team, i.e. when we received a modest one-off fee as part of a production budget, once per year at the most. We were all trying to work for Stellar Quines while inevitably earning money elsewhere. There came a point when Morag Ballantyne, who had worked tirelessly for the company, could not continue to give so much of her time, and money was found to employ Jaine Lumsden as a waged administrator.
Stellar Quines had operated for six years as a co-operative, with no single artistic director. An idealistic concept, which I favoured, though structurally somewhat unwieldy. Sadly, artistic differences emerged over the choice of one particular play, The Reel Of The Hanged Man, by Canadian writer, Jeanne-Mance Delisle. I, and some other company members, considered this play to be deeply reactionary in its published form. However, it was decided narrowly, by a company vote, that we would produce the play.
At this point, in November 1999, I left Stellar Quines. A positive result of this decision was that my phone bill immediately plummeted!
In 2000, Muriel Romanes took over as Artistic Director, and the company went on to secure core funding. Happily, the company continues as an energetic force in Scottish theatre.
Gerda Stevenson, June 2006.
Links: